Better awareness will go a long way to creating better environments for these children.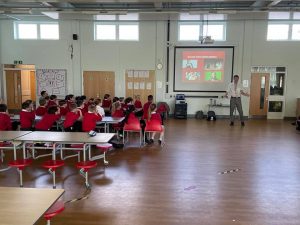 I have absolutely loved being back around the children again! On the first Monday after the Easter break I left the first school I was in with a massive smile on my face. Although there still may be some nervousness in the air, it feels like a bit of a fresh start for us. What we are keen to do is build on our online momentum and build on any new contacts we have made throughout the lockdown period. Some day's have been dark and very hard but the children do seem to be bringing us back to the light!
We are running two more resilience groups in both Dedham primary and Hampford Primary. I think early on just from our perspective is that the children really have lost some of those social skills. They also do seem more willing to stay in their own space. I don't think we know enough yet to truly know how this will have affected children and I do think we need to show patience. It's certainly not helpful when the media bang on about 'catch up'. Some of our ambassadors have also started working with the social care team in Essex, looking at how they can influence some of their inclusive practice and we are looking forward to see how this can develop over the summer term.
I have also been back in working with children directly on both autism and ADHD awareness. Some of the standouts are the fact that children are still unsure if they can catch things like autism and ADHD, I always get a mixed response. It shows that this is just one example of a lack of understanding – this is created by the fact we just don't talk about our differences. We talk about other difference, different SEND needs should be no different! I used the word different there a lot – that's the key in the sessions, different not less. One young lad in an ADHD session spoke really well about his hyper focus during different activities and we love empowering children to really openly talk about their differences. This should just be the norm – we need to normalise the fact there is no 'normal'.
We have also held a couple of meetings with the Essex Youth Service. It is paramount for the development of our model and to continue breaking down perceptions we need to work with different organisations. One main area they are looking to support us with right now is the creation of a well-being after school club, led by some of our ambassadors. We have our football club which we hope to bring back on the 5th of June but the children have asked for there to be a better variation in what's out there. We hope to visit a couple of venues soon. Moving into the summer we will also be looking to spread awareness about what is out there in terms of inclusive activities- we hear that these opportunities are still very hard to come by. Even in 2021. Working with more school staff and NQTS we have also continued to educate about the importance of early intervention support for children's mental health. This forms part of a bigger picture – we know if we get the environment right then children can blossom. For us the most important thing is that the awareness session has been designed by young people and will be constantly updated to reflect their views on better mental health awareness in schools. The stigma will start to leave us if we get it right in schools – we firmly believe that!
Our big event for this summer term will be our Green day on the 8th of July. We are asking schools, local councils and any businesses who want to, to showcase how they are contributing to a greener future. We know from what children tell us this a huge priority for them and even in a pandemic we should still be talking about other issues because this is not going to go away. Over the weeks and next month we will be telling you more about what's going on – we have already had some exciting plans from schools. During our virtual meetings too we have been able to meet with 3 other local authorities in the past two weeks who are all keen to look at building a multi-schools council approach into their areas. That's a massive pat on the back to all the children and schools in Essex who are driving this – however we have a lot further to drive. I also had the opportunity to present to various SEND leads in Essex and we hope this will lead to a more joined up approach when it comes to awareness in schools. Better awareness will go a long way to creating better environments for these children.
One of the things that stood out in our second week back in schools after Easter was all the fresh haircuts – they must have been busy places too! We have started the recording of our MSC album, with a new song being released this summer. We can't wait for you to hear it! The rest of the album should be ready by the autumn. I am also in the process of looking at the idea of a book that could support staff within education, again this is something we have an ambassador helping us with and although it could take a little time we hope to really create something helpful here.
My highlight over the past two weeks must be just getting back in and seeing children. My advice for anyone in education, when things get tough, just go and spend some time talking to the children. They remind you why we do this and they nearly always inspire you. On a Sunday night, they are my reason to look forward to the week.
If you would like to find out more or become a member (it's free!), please do not hesitate to get in contact with Kierran Pearce: mschoolscouncil@gmail.com.
What happens in our meetings? Watch a Multi Schools Council meeting to find out.
Removing barriers, uniting differences, creating equality