The priority above anything like OFSTED or school improvement plans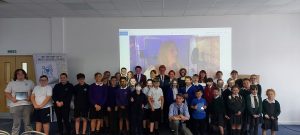 That's the first term done! Unfortunately, another tinged with uncertainty and nervousness about what's round the corner but when where we have also seen the smiles of those who have been able to open again. What's clear is that through any crisis it is the disadvantaged that are hit worse; that's not to say some haven't been affected because everyone is in this together – but we are certainly not in the same boats. If I relate this back to young people, we must ensure those form disadvantaged backgrounds are heard just as loudly as those who aren't.  
The children's focus this term has been 'Keeping active' and I first must thank Active Essex for all their support and commitment to the ideas of our children. This has resulted in an improved special school games offer, resources to highlight disability sport, a commitment to further engage schools in the daily mile and a chance for our ambassadors to create an awareness programme all about disability sport. Next terms main priority is Racism. A long-standing issue and one we need to ensure involves a diverse group of young people. I can't wait to see what the children come up with!
September marked the release of our new single 'With a little kindness' which was quickly followed up by our album release in October. The whole idea of the album is to promote positive mental health – another priority for our children. With Covid affecting so many of us we know from speaking to children that currently we are only seeing the tip of the iceberg when it comes to its impact. We feel too much focus is currently put on dealing with the result of mental health pressures rather than going further up the river to look at the causes. Many of you will be familiar with our work on resilience and we are delighted that this intervention will be made into a manual, accompanied by a train the trainer course. The other area we are now look at is self-esteem. Low self-esteem plays such a role in reducing children's resilience and contributing to a downward spiral of mental health difficulties. We are chasing a meeting about this before the Christmas break and it's something we are keen to see happening in the new year.
During September we also held our first ever awards event that celebrated the schools and individuals who are really committed to the MSC. We hope year on year this event will grow with more and more schools signed up. From next year we have just two more years to reach our target of every school/college in the Essex local authority being signed up to the multi-school's council. Moving into October we held our first set of MSC meetings of the academic year and increased our involvement in schools delivering a range of awareness sessions. We have seen a big ask for our ADHD awareness sessions both for children and staff. A common myth we still find within school settings is that ADHD is seen as this behaviour problem. We really do need to change this label for both children and adults. A reminder that ADHD is a difference in the way our brains may operate and is not a 'behaviour problem' nor is it an excuse for poor behaviour as we know there are many strategies that can be learnt. Our ADHD ambassadors also helped us updated our school sessions this term and we have some great content in there for schools.
November saw a shift from our focus solely on this year to looking ahead to next and felt as if we were really starting to see some light in terms of things opening up. Next year alone we have a green day planned, a schools united in diversity event, a walk with the stars midnight walk fundraiser and a potential winter ball all to plan for. The inspiration behind all these events is of course the children and we can't wait to see what these will look like in 2022. The good practice seekers completed the first part of their project this term inspecting 4 schools and giving some brilliant feedback from their inclusion framework. The next steps with this project are to present the key themes from the 8 schools visited as part of this project to the headteachers roundtable. We are currently waiting for a slot and hope that they share our views in that children's voices are the priority above anything like OFSTED or school improvement plans.
During December we have been spreading the word of the MSC through different Essex based meetings. This is in preparation for the MSC business case to be presented at the end of January 2022. In essence we are asking for an expansion of the team and a greater voice across each sector that effects children and especially those with SEND. We keep our fingers crossed that this would come off and we will be able to share some good news!
All that's left is to wish everyone a safe Christmas and a happy new year!
If you would like to find out more or become a member (it's free!), please do not hesitate to get in contact with Kierran Pearce: mschoolscouncil@gmail.com.
What happens in our meetings? Watch a Multi Schools Council meeting to find out.
Removing barriers, uniting differences, creating equality