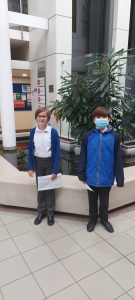 With so much going on we have now moved to monthly blogs! We don't know how many will read this but it does give you a flavour of what we have been doing at the multi-schools council. June has been a great month for us and our young people as we have been able to get more done in person. We have all had to adapt recently but nothing can beat working directly with children face to face!
Our month started with the news that we will be joined by Nigel and his team for our climb of Mount Snowdon! Nigel has been related to us for some time now and has always done some brilliant films for us – the filming will continue but he can also help us in our climb up Mount Snowdon!! I want to also take this opportunity to thank everyone who has donated to us so far – https://uk.gofundme.com/f/acyv9-snowdon-2021?utm_source=customer&utm_medium=copy_link_all&utm_campaign=p_cp+share-sheet .
In the last month we have also been able to re-launch our MSC football sessions. I can't put into words how pleasing it has been to see the girls and boys back on the pitch. We know that this club can be such an outlet for many of the children we work with. I also want to thank all the coaches and volunteers who have made these sessions happen again. If you are interested you can come along behind Market Field School, School Road, CO7 7ET from 10:30am – 11:30am on a Saturday morning. We are currently accepting players from the ages 10 and upwards!
Another of our big developments has been a book that we are writing. The book will be aimed at adults working in schools and will focus on the areas of autism, ADHD and mental health. It will also look at personal stories from some of our young people and we hope it becomes a useful resource across Essex and beyond. While writing the book with our ambassador Gen I feel proud that so many of our children have helped design our path so far – they have really driven the multi-schools so far and we aren't stopping here. We know from both children and adults that understanding of SEND in lot's of schools is lacking, this book won't address it all but we hope it can make a dent. The last month has also seen us talk to children across Essex about the issues that are important to them. We have had to hold these meetings virtually again, but we hope that by the new academic year we can get back in person – it's powerful bringing children from all backgrounds together.
We have had a backlog of bookings in schools and have been across Essex this month. We have delivered sessions on autism, ADHD, and mental health with both children and staff. The standout has not been so positive – in both our ADHD and autism sessions with children one of the things we discuss is the stereotype of 'Can I catch autism or ADHD'. We go through this and obviously explain that it is not something we can catch but something we are born with or develop at an early age. Recently while explaining this I have had children cheer at the fact they can't catch autism or ADHD. For me this just sums up why we need to continue raising awareness. Society puts a pressure on 'normal' (whatever normal is!) and children feed off this, hence the reason they don't want to be 'different'. Its so key that we don't let autism, ADHD or any other learning difference be a 'negative' as this perception is harmful – we are working to address it.
I am pleased that we have started to plan towards the new academic year with optimism. We have a special awards event and the special school games back in the diary again. These events will really bring children back together which is something I am sure many of us are striving for HOWEVER on the other hand we must also remember about those who are vulnerable or still feel anxious about the current climate. I am pleased that we have held some constructive meetings with alternative provision providers this last month and we are helpful we can also include these children in our sessions from September. Our new podcast is also now out too and you can find all our new episodes here – https://www.multischoolscouncil.org.uk/podcast/ . A massive thank-you to our sponsor Provide but also everyone who has contributed so far. We have also been able to expand our contact in both Southend and Thurrock this month with plans to further engage these schools and communities too.
My highlight over the last month though must be one from this week. On Wednesday I attended a headteachers inclusion event where I was lucky enough to hear 4 of our ambassadors talk about various projects, they have been involved in. They were brilliant and for me really summed up what education should be all about – they have challenged these leaders; will they now act on it?
If you would like to find out more or become a member (it's free!), please do not hesitate to get in contact with Kierran Pearce: mschoolscouncil@gmail.com.
What happens in our meetings? Watch a Multi Schools Council meeting to find out.
Removing barriers, uniting differences, creating equality