These voices will be getting louder in the following weeks.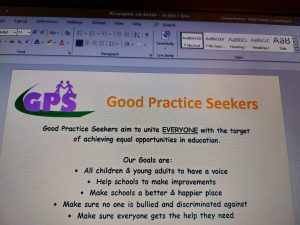 The final week before another half term. I think for many reasons this term has been a challenge. But in times of challenge we must stand together as it is normally the most vulnerable that seem to be forgotten about. It's reassuring to see that there are some people out there willing to stand for the better of others – as a group we completely support the push towards free school meals being extended into the Easter of 2021. How can we be at this stage in the 21st century?
In terms of the MSC this week we have had to take things slowly due to the pandemic. While some school visits could still happen in person, others had to be done virtually. We are part of a group working with families to ensure voices are taken even further and higher. The important thing with our work is to not just simply talk about it; but to go and do it! We can't sit around further and plan for the 'future aims. The fact of the matter is too many children don't feel included within education, too many children feel misunderstood and too many families feel as if they have nobody to turn too. This is becoming clearer the more we push for things – these voices will be getting louder in the following weeks.
I held the final of our 12 sessions across 2 primary schools based on resilience this week. Two fantastic groups! We will be working with a secondary school next term too but I firmly believe the earlier we can start talking about resilience and our mental health the better. So many questions followed about how they could use these skills in their lives, and I am really pleased they picked this up. We can't or shouldn't lie to children. Life can throw us curve balls and unless we have the internal skills to manage situations it can be very difficult – no matter how good our support networks might be. It must be a big part of school's curriculums.
As an all together ambassador supporting Active Essex this week it was great to hear stories from across our county about people breaking down perceptions towards disability through the power of sport. Look out for the 'Superhero series' coming this November! I also met with two brilliant children this week (virtually) from John Ray Junior School. They were part of our good practice seekers project which ran throughout the last academic year. Basically, some of our young ambassadors visited 4 other schools and scored how inclusive they were. They then feed this back to the children at those schools and their senior leaders. We produced 4 certificates with up to 5 stars on their indicating how inclusive they were. The meeting this week was to find out if any recommendations from our group had been implemented – it was brilliant to hear that there had been, and they will now get a new certificate with an extra star! It's a brilliant project and we hope in can happen again with more schools involved! This is how it should be children working with children to improve provision! Nothing more important.
And so my highlight this week has to be the good practice seekers meeting. The children on the call, both with additional needs, were so proud to show off the work that had been done since our visit. The enthusiasm they showed in ensuring things were better not just for themselves but for their peers too was heart-warming. I do hope we can convince Essex on the importance of this project and ensure it can be rolled out in different quadrants to help make a whole school difference.
If you would like to find out more or become a member (it's free!), please do not hesitate to get in contact with Kierran Pearce: mschoolscouncil@gmail.com.
What happens in our meetings? Watch a Multi Schools Council meeting to find out.
Removing barriers, uniting differences, creating equality